Birds are telling us we must act now to ensure
our planet can sustain wildlife and people
We've Lost One in Four Birds
Since 1970
across the continent, numbers have plummeted, even among common species
In less than a single lifetime, North America has lost more than one in four of its birds, according to a report in the world's leading scientific journal.
Published in Science by researchers at seven institutions, the findings show that 2.9 billion breeding adult birds have been lost since 1970, including birds in every ecosystem.
The losses include iconic songsters such as Eastern and Western Meadowlarks (down by 139 million) and favorite birds at feeders, such as Dark-eyed Juncos (down by 168 million) and sweet-singing White-throated Sparrows (down by 93 million).
The disappearance of even common species indicates a general shift in our ecosystems' ability to support basic birdlife, the scientists conclude.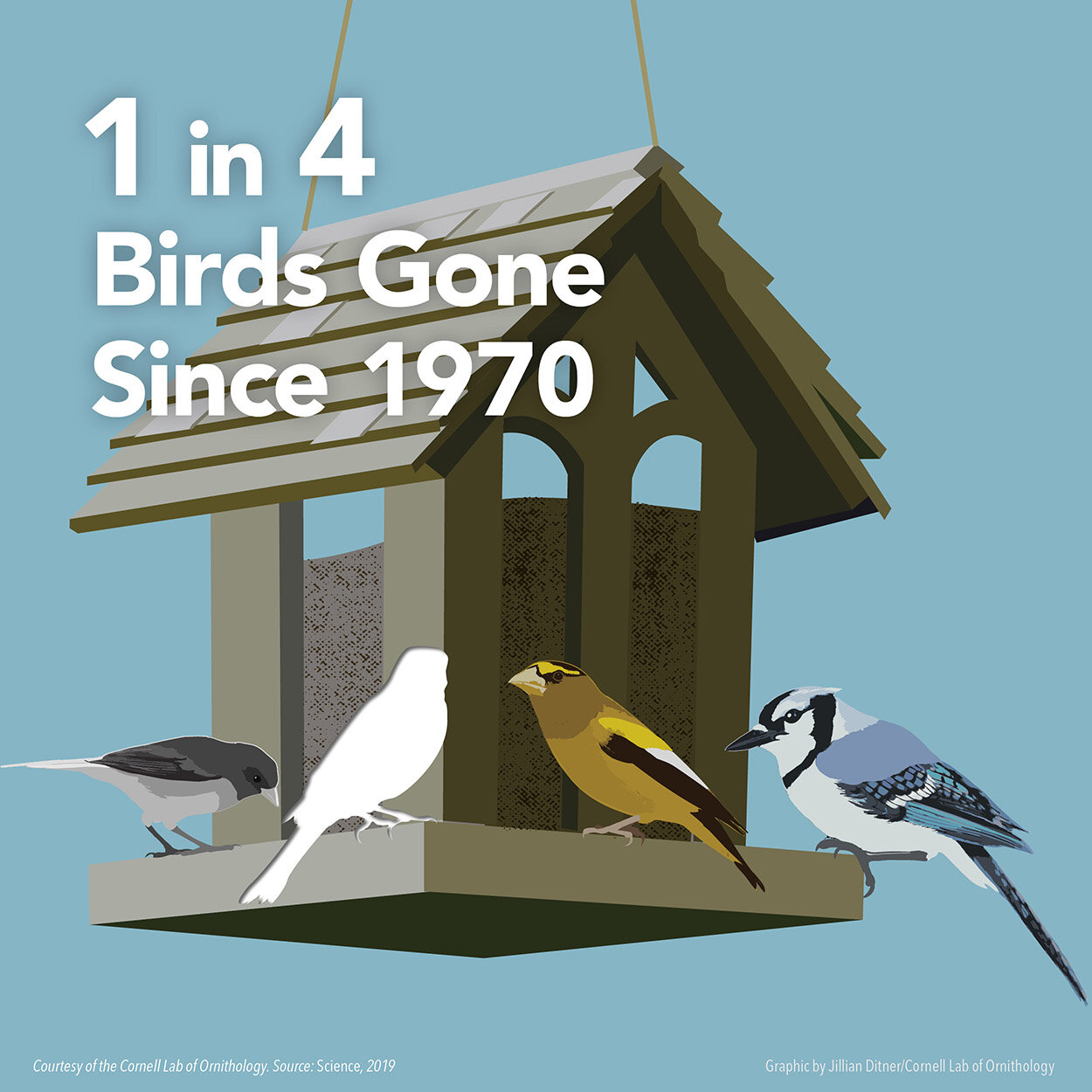 What's Behind The Declines?
watch video
Watch the video: The decline of birds signals a broader crisis in the natural world already echoed by global losses in insects, amphibians, and other wildlife. Our quality of life—the water we drink, the food we eat, and the beauty of natural landscapes that we enjoy—all depend on keeping our planet healthy. Conservation actions work, and there is no time to lose.
How Can You Help Make a Bird-Friendly Planet?
7 Simple Actions to Help Birds
share awareness
You can make a difference. Polls show the majority of Americans care about the environment. But many people simply aren't aware that these declines are happening.
You can help. Share our infographics, links, and videos to inform and inspire your family and friends. Use the hashtag #BringBirdsBack to let people know you're part of this groundswell of support for birds.
share solutions
Everyday actions can save millions of birds. Share this infographic of the 7 Simple Actions to Help Birds—or share the full 7 Simple Actions webpage that summarizes each problem, its solution, plus ideas for taking it farther.
Or visit our Social Media Shares page to share these good-news statistics: Raptors are up by 15 million because we curbed pesticides; waterfowl by 35 million because we invested in wetland regeneration; woodpeckers by 14 million because of habitat management. The pattern is clear: when we take action, birds recover.
Partners
We're united to create better protections and support for birds.